Historic Bemis, Tennessee
Listed on the National Registry of Historic Places
(December 1991)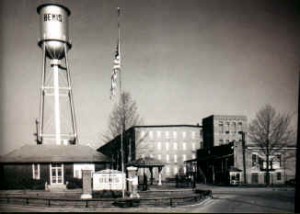 A cotton mill town constructed in 1900
"Where Industry and Friendliness Blend Into Progress"
Located off Highway 45 South, Jackson, Tennessee  38301

Home of the Bemis Mill Village Museum
(formerly The Bemis Auditorium)
An Official Project of Save America's Treasures

For scheduled tours, call:  Joel at 731-424-0739, Richard at 731-234-9813, or Kathy at 731-225-6938.
---
BEMIS HERITAGE DAYS
May 17-18, 2019
Bemis Heritage Days was a great success.  We saw old friends and made new friends.  We enjoyed good music and delicious barbecue.  Mayor Jerry Gist proclaimed May 17-18, 2019, as Bemis Heritage Days; and he cut the ribbon on our new Bemis Mill Memorial Park on the site of the former Bemis Cotton Mill.  We remembered and honored our US veterans.  Story tellers shared their memories of Bemis.  Our Bemis heritage was celebrated.  Our ancestors would be proud.
---
SOCIAL MEDIA
Like our Facebook page:  The Bemis Museum.
https://www.facebook.com/The-Bemis-Museum-149237151757283/
---
MONTHLY MEETINGS
Bemis Historical Society meets the third Tuesday at 7:00 p.m. at the Bemis Mill Village Museum (February, March, April, June, July, August, September, October).
---
BOARD OF DIRECTORS 2019-2020
Chairman, Joel Jackson
Vice Chairman, Kathy Haney Williams
Secretary, Robert Gaugh
Treasurer, Anita Roark
Past Chairman, Richard Fisher
---
MEMBERSHIP DUES
Annual dues are $25 for an individual or family membership.
Please continue to support the projects
of the Bemis Historical Society by forwarding dues to:
Bemis Historical Society
P. O. Box 9266
Jackson, TN 38314-9266
---
BEMIS MILL MEMORIAL PARK
Ribbon Cutting – May 18, 2019
BHS Chairman Joel Jackson & Councilwoman Vicky Mayo Foote
Bemis Mill Memorial Park – May 18, 2019
City of Jackson Mayor Jerry Gist & BHS Chairman Joel Jackson
Proclamation by City of Jackson, TN Mayor Jerry Gist
City of Jackson Mayor Jerry Gist – Ribbon Cutting